Composite telescoping poles
Extend your reach with our telescoping composite pole solutions.
We build on our wide range of composite tubes to produce telescoping poles suitable for a wide range of applications, from carbon fiber window washing solutions to telescoping poles for olive picking, we work with you to determine the best choice of materials and secondary processing (such as printing, assemblies, threading, or even just pre-drilling holes for your final assembly).  
We offer a range of carbon fiber, fiberglass, and a hybrid mix of both carbon and glass fibers constructions with a range of surface treatments, and different locking systems.  
Lightweight
When you need to use a tool daily , any weight savings are not only noticeable, but appreciated.
Durable
Fiberglass and carbon fiber are both very durable materials. Both strong and stiff, they are resistant to corrosion and will not rust or rot.
Consistent quality, volume production
Our expertise with pultrusion and pull-winding manufacturing are seen in the repeated quality of the delivered products.
Our composite telescoping pole products
Exel XTel telescoping poles
This range of telescoping poles are available with up to 9 sections in carbon, glass, or a hybrid mix of both fibers, in lengths up to 18 meters.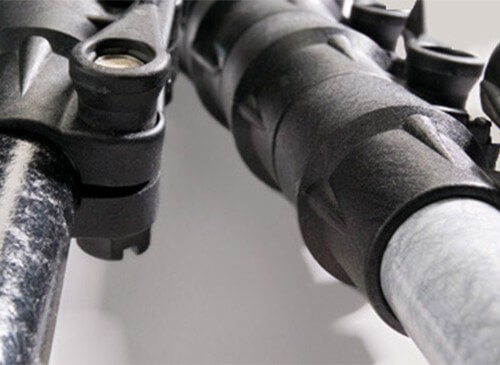 Exel Universal telescoping poles
These fiberglass telescoping systems were originally developed for military use, so you can be sure they have durability built-in. Strong and stiff, these poles help you easily reach up to 20 meters. Corrosion free fiberglass requires very low maintenance and is simple to clean.
Exel Quick Lock telescoping poles
These two-part fiberglass poles easily adjust to the required length and twist-lock into place. These telescoping poles are perfect for cleaning or painting applications. Standard and custom colors available, and we can fit your handle or attachment accessories at our factory.