Have you thought about using composites?

Are you thinking about how you can get more out of your windows, doors, or other building applications? So have we. Composites, like fiberglass and carbon fiber, can be used in many different building applications. From fiberglass window profile frames to carbon fiber sunshade axes, the benefits composites provide not only help build more durable solutions, they also help lower lifetime operational costs though reduced maintenance. We work with a wide range of customers, from design engineers and fabricators to construction companies, to architects to OEMs to provide cost-effective composite solutions to many creative challenges.  
Make us your composites partner
Global presence and manufacturing
Exel's global footprint means that our production and expertise areas always within reach. With both in-stock structural profiles and continuous manufacturing of your custom product, we match production location to best suit your needs.
Partner approach to R&D
Give your engineers a design boost by paring with our local and global research and development staff.
Technical Expertise
We've worked with customers in over 50 countries on a wide range of building related applications, chances are we've got some related experience you can benefit from.
Common uses for composites
There are many areas where composites can be used in place of more traditional materials like aluminum, steel, wood, or PVC. Below are a few of the areas where our building composites are typically used.  
How to manage fire, smoke and toxicity requirements when specifying composites?
The mechanical properties of composites, such as weight, stiffness, and strength, are normally the deciding factor in the design process. However, in applications where there is a risk of encountering fire, smoke, and toxicity (FST) conditions, this becomes the primary consideration when specifying composite solutions.
To help companies operating in industries like transportation, building, construction, and infrastructure, navigate FST requirements, we have created an FST whitepaper to explain how fire considerations influence composite designs.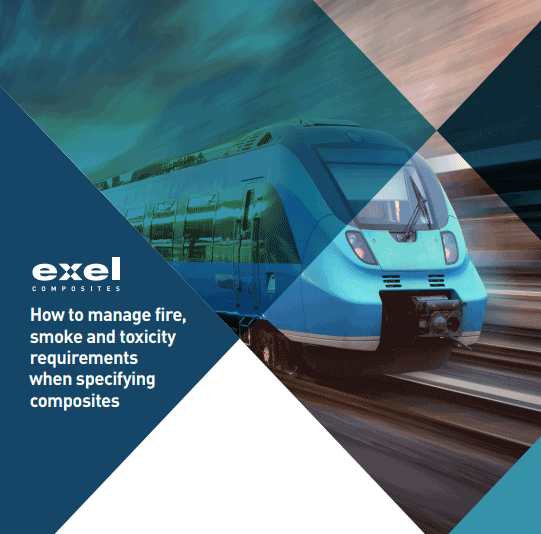 We use continuous manufacturing technology to provide consistent quality and high-volume output. These processes, called pultrusion and pull-winding, also allow for a wide range of fiber alignments and resin systems to better accommodate the many applications where composites are used. We can tailor the performance characteristics as well as surface qualities and aesthetics to meet a wide range of end-user needs. Our secondary processing options like drilling, cutting, sanding or grinding, as well as labeling and gluing add additional value and help simplify your supply chain.
Light weight
Lighter than aluminum and steel, you can save weight or move them around easier.
Strong and stiff
With strength that's comparable or superior to steel and aluminum, composites consistently outperform plastics.
Cost-efficient
Our composites are delivered shape and specification ready.
Thermally efficient
Composites are excellent insulators and retain their shape in extremely hot or cold conditions.
Environmentally durable
Unaffected by salty or acidic conditions, our composites are corrosion and chemical-resistant.
Electromagnetic transparency
Fiberglass has lower signal attenuation helping to keep data connectivity where its needed.
Our buildings projects
Discover how we applied our composite expertise to transportation
projects across the world.